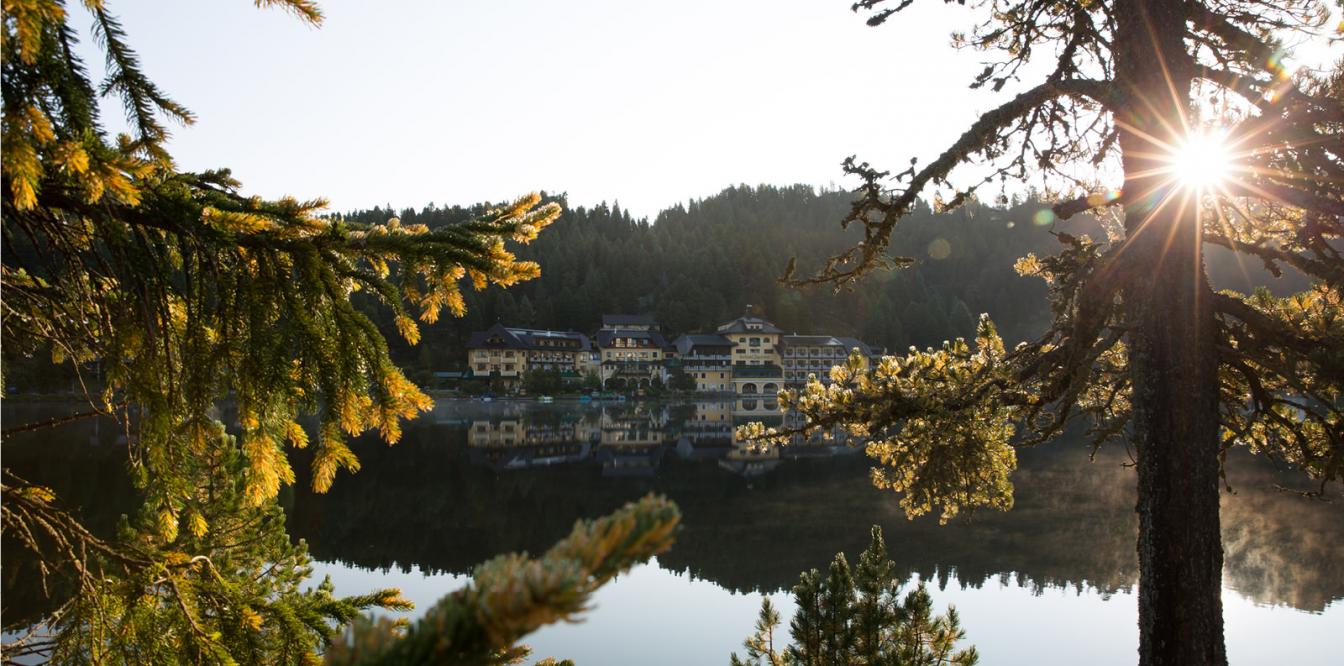 Imprint
Romantik Seehotel Jägerwirt
Seehotel Jägerwirt GmbH
Jägerwirtsiedlung 63
A-8864 Turracher Höhe
Tel: +43 4275 / 8257
Fax: +43 4275 / 8257 - 717
urlaub@seehotel-jaegerwirt.at
Right of representation
GF Christoph Brandstätter
Mag. Christina Brandstätter
Media inqiries
Mag. Christina Brandstätter
Tel: +43 4275 / 8257 - 731
presse@seehotel-jaegerwirt.at
www.turrachersee.at
Bank details
Volksbank Kärnten
IBAN: AT36 4213 0309 0032 0001
BIC: VBOEATWWKLA
Authentification
Company registration number: FN 218862g
VAT registration number: ATU 60956969
Tax: 019/3806
EORI: AT EOS 1000027728
OeNB: 542 3392
Company info WKÖ
Cancellation conditions in times of Coronavirus
Terms and conditions of hotel business
Cancellation policy
Service fee € 30
up to 4 weeks before arrival - 40% of room rate
up to 1 week before arrival - 70% or room rate
up to1 week before arrival - 90% of room rate

Should a quarantine decision prevent you from traveling,
0% cancellation fee is charged.
Get well soon!
Travel cancellation insurance
And if something unforeseen happens? The booking confirmation also indicates a link to our insurance partner UNIQA. It is about 3% of the hotel price and easy to book. It covers the hotel cancellation costs if your are forced to cancel your trip due to illness or an accident.
Liability note
Despite careful control of the content, we assume no liability for the content of external links. For the content of linked pages, the operator is exclusively responsible.
Receipt issuing obligation & Tax reform
In case of payments in cash in the restaurant we are required to issue a receipt at the main cash register. Our retail rates are: breakfast €20, lunch € 25, dinner €40, afternoon snack and wellness teas €19, seminar coffee €19
Copyright
Fotos: Seehotel Jägerwirt, TMG Turracher Höhe Marketing GmbH, Fotolia, © shreddhead, © sara_winter, © lassedesignen, © kichigin19, © Otmar Smit, © pressmaster, © serguastock,
iStock, © EXTREME-PHOTOGRAPHER, © Creativemarc, © chris-mueller,
© daddyworx, © roxcon
This product includes GeoLite data created by MaxMind, available from www.maxmind.com.
Google Analytics
This website uses Google Analytics, a web analytics service provided by Google, Inc. ("Google"). Google Analytics uses so-called "cookies", which are text files that are stored on your computer and enable your use of the website to be analysed. The information generated by the cookie about your use of this website (including your IP address) will be transmitted to and stored by Google on a server in the United States. Google will use this information for the purpose of evaluating how you use this website, compiling reports on website activities and providing further services relating to website activity and internet usage for the website operator. Google shall not associate your IP address communicated by your browser in the context of Google Analytics with any other data held by Google. In addition, Google may forward this information to third parties where required to do so by law, or where such third parties process the information on Google's behalf. Google will in no event combine your IP address with other Google data. You can prevent the installation of cookies by the appropriate setting in your browser software. However, in that case, we would point out to you that you may then not be able to make full use of all the functions of this website. By using this website you declare that you agree to the processing of the data recorded about you by Google in the manner described above and for the above-mentioned purpose.
Concept & Design
...
Search engine optimization
eMagnetix Online Marketing GmbH
www.emagnetix.at
Technical realization
alengo OG
www.alengo.at