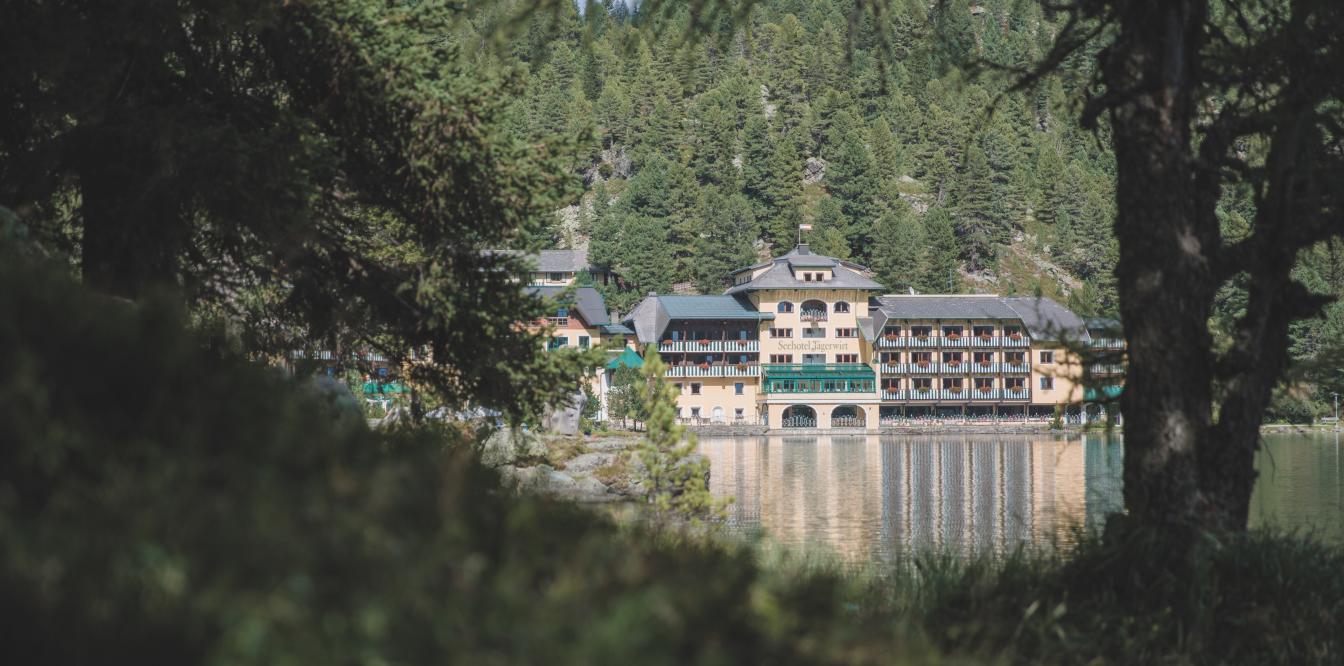 Privacy policy
Romantik Seehotel Jägerwirt
Right of revocation of advertisement
As family-run accommodation establishment the protection of your personal data is of particular concern to us, both in private and in business life! If you don't want to receive advertising material from us, such as newsletters or promotional brochures, you can unsubscribe easily anytime by sending us an e-mail.
Privacy Policy
Seehotel Jägerwirt GmbH is an Austrian business located at Turracher Höhe and owner of the website www.seehotel-jaegerwirt.at. This privacy policy applies to the present website of Seehotel Jägerwirt GmbH and the data provided to us through inquiry or booking forms submitted on this website.
Information we may get from you
After having received your inquiry we only need your e-mail address and your name to send offers directly to your email account.
Our anti-spam policies exclusively allow e-mails accepted by you. Our guests reserve the right to change their e-mail settings and to unsubscribe from marketing e-mails anytime without losing full access to the website www.seehotel-jaegerwirt.at .
Some messages (such as billing information) are not considered as advertising and therefore sent to all guests. Along with the personal data submitted through your inquiry or booking form, we can also retrieve information such as your IP address, operating system, web browser software, screen resolution or referring websites. We do not store financial data such as credit card information.
For the facilitation and realisation of guest booking; the successful execution of the guest's stay; to coordinate the hotel stay according to the wishes and interests of the guest; to ensure the provision of future hotel services which correspond with the interests of the guest; for marketing purposes as pertaining to hotel performance and the improvement of this performance.
How do we use this information
Personal data provided by you such as your e-mail address or ZIP-code, is solely processed for communication purposes and customer support. This means we use this date exclusively for sending you newsletters (§ 107 (3) TKG), making inquiries for customer support purposes, forwarding the contract you concluded upon booking, answering your requests or handling possible job applications.
Austrian reporting requirement
We are required by law to report your personal data (name, address, date of birth) to the municipal office. We will not share your information with any third party.
Cookies
In order to make visiting our website more attractive and to enable the use of certain functions, we use so-called cookies on various pages. These are small text files that are automatically stored on your end device and which save specific settings and details about your browser to share with our system.
Some of the cookies we use are automatically deleted after the end of the browser session, i.e. after you close your browser (so-called session cookies). Other cookies remain on your end device and enable us to recognize your browser when you next visit our website (persistent cookies).
Please note that certain cookies are set as soon as you visit our website. If you do not want these cookies to be stored on your device, you can change your browser settings so that you will be informed whenever a cookie is being installed on your device and consent to this storage on a case-to-case basis. Deactivating cookies may restrict the functionality of our website.
Below you will find information on the cookies we use and how to set them in your browser.
What types of cookies are used?
1) Necessary cookies
These cookies are necessary to enable the operation of our website. They include, for example, cookies that enable you to log in to the customer area or to add an item to the shopping cart.
2) Analytical / Performance cookies
These cookies allow us to collect anonymized data about how users browse the site. We then evaluate this data, for example, to improve the functionality of the website and to show you offers you might be interested in.
3) Functional cookies
These cookies are used for specific functions on our website. For example, they make it easier to browse from one page to another, or to obtain personalized, relevant information (such as "interest-based advertisements").
4) Targeting - Cookies
These cookies record your visit to our website, the pages you have visited and the links you have followed. We will use this information to tailor our website and the advertisements you are shown to your interests.
5) Third party cookies
These cookies from some of our advertising partners, help to make the online offer and our website more interesting for you. Therefore, when you visit our website, cookies from partner companies are also stored on your hard drive. These are temporary cookies, that are automatically deleted after the specified time. Cookies of partner companies are usually deleted after a few days or up to 24 months, in individual cases after several years.
How can I adjust my browser's cookie settings?
Each browser is different when it comes to managing cookie settings. This is described in the help menu of each browser, which explains how to change your cookie settings. These can be found for the respective browsers at the following links:
Internet Explorer™: http://windows.microsoft.com/de-DE/windows-vista/Block-or-allow-cookies
Safari™: http://apple-safari.giga.de/tipps/cookies-in-safari-aktivieren-blockieren-loeschen-so-geht-s/
Chrome™: http://support.google.com/chrome/bin/answer.py?hl=de&hlrm=en&answer=95647
Firefox™: https://support.mozilla.org/de/kb/cookies-erlauben-und-ablehnen
Opera™ : http://help.opera.com/Windows/10.20/de/cookies.html
Facebook Connect
This website uses plug-ins of the social network Facebook (Facebook Ireland Limited, Hanover Reach, 5-7 Hanover Quay, Dublin 2 Ireland). The plug-ins are marked with a Facebook logo.
By using Facebook Connect, you have the possibility to make online bookings with your Facebook user data. Any data transmission from Facebook to our website will only take place if you give Facebook your explicit prior permission to do so. The transferred data is used to create a new user account. The data is transferred to us only once. There is no permanent linkage between the Facebook accounts and www.seehotel-jaegerwirt.at
Since the plug-in enables direct transfer of data, we have no knowledge of the content of the data transmitted. For information about the purpose and scope of the data acquisition and further processing and use of data by Facebook as well as your related rights and configuration options for protecting your privacy, please see Facebook's data protection policy at http://de-de.facebook.com/privacy/explanation.php.
Data transfer to third parties
To contracted service providers who supply cloud-based software and data handling solutions to the hotel. These providers operate with the sole purpose of processing and analysing guest data for the aforementioned purposes.
Validity
Valid as of March 2021. Seehotel Jägerwirt GmbH reserves the right to change this terms and conditions at any time without prior notice.
Our contact details:
Seehotel Jägerwirt GmbH
z. H. Datenschutzkoordinator
Jägerwirtsiedlung 63
8864 Turracher Höhe
Österreich
urlaub@seehotel-jaegerwirt.at
+43 4275 82 57